Feltham based specialist logistics company, Dore to Door, is celebrating its 10th birthday by achieving FORS Gold, the highest accreditation level of the national safety and standards accreditation.
FORS, the Fleet Operator Recognition Scheme, is a voluntary scheme open to any company operating commercial vehicles across the UK or overseas. Its remit is to drive-up standards in the road transport industry with respect to safety, efficiency and environmental protection.
FORS is progressive, with members beginning at entry-level Bronze, before moving up to FORS Silver and finally Gold, the highest level of FORS accreditation. Receiving its Gold accreditation puts Dore to Door amongst just over 300 operators nationwide to achieve the exceptionally high standards required at FORS Gold and has helped the company win business.
Dore to Door, which is based in Feltham, is headed-up by Managing Director and founder David Dore. David founded the company in 2009 and has grown the business from just two vans to a sizable fleet of over 22 vehicles, whilst striving to maintain strong personal relationships with each customer. The company mainly operates in the specialist logistics sector across the UK and the rest of Europe, with work including construction, events, moving fine art and antiques and equipment for bands and sporting teams.
David Dore said, "We chose to become FORS accredited as a growing number of sites required FORS accreditation. Once we had achieved Bronze, Silver and Gold seemed a natural next step. We invested a great deal of time and money into our staff and fleet from the very beginning, so reaching Gold accreditation fits perfectly with our company ethos."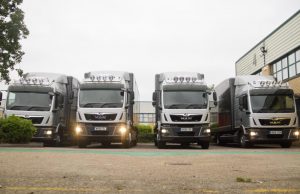 Alongside increasing the number of customer enquiries, David Dore says FORS accreditation was key to the company gaining a contract with Lindner GmBH on the Crossrail project. This project has seen Dore to Door transporting materials from Germany to their warehouse in Feltham, and then to sites in London.
The Dore to Door fleet includes 14 trucks and eight vans, with further vans and trucks on order and all of these vehicles are equipped with fuel consumption recording devices to maximise efficiency.
In order to reach FORS Gold accreditation, the company invested heavily in its 35 members of staff, all of whom have completed FORS eLearning and classroom training, including FORS Professional Safe Urban Driving, where participants complete a practical 'on cycle' element helping understand a cyclist's experience of the road.
David Dore and Claire Wall, Operations Director, have both sought to raise the company to even higher operational standards undertaking FORS Practitioner training, a series of 10 FORS training sessions for managers. Both are now on the cusp of becoming qualified FORS Practitioners. Claire Wall said, "I have found the FORS Practitioners courses very interesting. They have given me lots of ideas that I can introduce into our business, to help embed FORS, to really help us continue in our bid to raise operational standards."

Sonia Hayward, FORS manager said: "Congratulations to David and the team at Dore to Door on their 10th anniversary. It is great to see how Dore to Door has embraced FORS and its requirements, going from Bronze to Gold, the highest level of accreditation. FORS is all about raising standards so I am delighted that Claire has found the FORS Practitioner workshops useful and has managed to apply some of that knowledge into every-day practices."