New Era Fuels, a fuels, oils and lubricant company based in Epping has achieved a 40 per cent improvement in MPG thanks to its membership of FORS – the Fleet Operator Recognition Scheme – and reached the highest level of accreditation, FORS Gold.
FORS is a voluntary scheme open to any company operating commercial vehicles across the UK or overseas. Its goal is to drive-up safety, efficiency and environmental standards across the road transport industry, by helping fleets operate as safely and efficiently as possible, while also reducing their environmental impact.
FORS supports its members across the UK as they progress from entry-level Bronze, to FORS Silver and finally Gold, the highest level of FORS accreditation. Reaching exceptionally high standards means New Era Fuels is now one of just over 300 operators nationwide that have achieved FORS Gold.
The Epping based company credits FORS Professional training and an upgrade to its fleet with its success, and says customers including McGee, Galldris and Oilfast, all cite FORS Gold accreditation as a key factor in their decision to work with the company.
Reg Geggus, CEO of New Era Fuels said, "We chose to become FORS accredited to help us run our fleet as efficiently and safely as possible, installing the latest safety equipment on our entire fleet to ensure we are doing all we can to minimise our environmental impact."

"FORS Gold accreditation ensures we operate to the highest standards in the industry and helps set us apart from our competitors and increase our customer base, with many companies attracted by our FORS Gold status."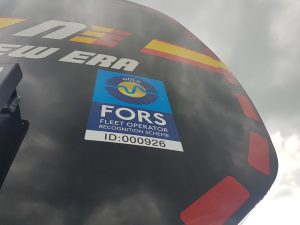 The business, led by Reg Geggus, and Managing Director, James Hunt has a rich history. Founded by WW1 veteran, Jack Watkins, with his very last severance pay packet from the British army, the company began operations from Stratford in East London providing oils and greases for light and heavy industries including factories, garages and workshops.
The company grew steadily, and in 1977 was acquired by Victor Geggus, Reg Geggus' father. Since this time the company's fleet has expanded by over 260 per cent, and now operates 36 vehicles, allowing it to provide a 24 hour delivery service to customers within its area of coverage.
In order to gain and retain FORS Gold accreditation, New Era Fuels invested heavily in staff training, with all drivers undertaking FORS online eLearning training every year, to ensure all staff know how to work as safely and efficiently as possible.
Reg Geggus, said FORS Gold accreditation has resulted in cost savings and reduced fuel use, "We upgraded our fleet so all are now efficient Euro VI vehicles, and ensured all drivers are trained to use anti-idling driving techniques, which in combination with a robust tyre management policy, has seen our emissions fall sharply and our annual fuel costs drop significantly".

Sonia Hayward, FORS manager said: "Congratulations to New Era Fuels. Achieving FORS Gold accreditation is no mean feat, and really shows a company's commitment to ensuring not only the utmost safety standards, but to proving their efficiency and commitment to lessening their environmental impact. New Era Fuel's impressive fuel cost savings shows how FORS can not only help lower operating costs but can help drive down emissions in road transport."