Orders for right-hand-drive zero-emissions CF Electric now being taken

DAF Trucks has announced the introduction of its CF Electric truck for the UK market, with series production to commence from the end of March 2021. Following successful in-service trials with operators in Germany and the Netherlands, the new Battery Electric Vehicle (BEV) offers full-electric, emissions-free operation on 4x2 tractor and 6x2 rigid models in full UK, right-hand-drive specification.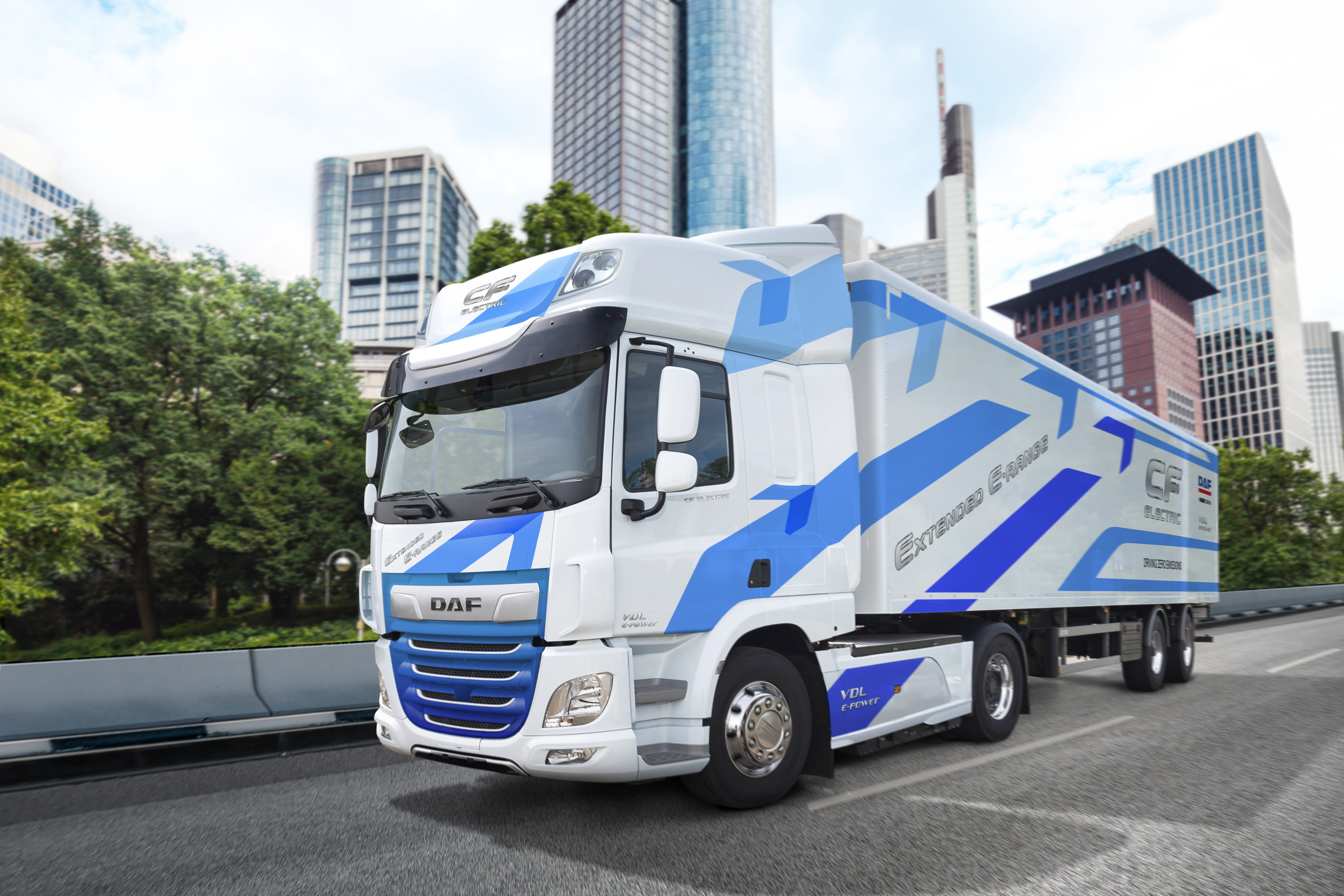 Equipped with the latest generation LFP (Lithium Ferro (iron) Phosphate) battery technology the CF Electric delivers significant operational benefits over its previous battery pack installation, including a single-charge range of up to 220km and an impressive weight reduction of 700kg.
The new battery pack delivers 350kWh (315kWh effective capacity) and is capable of full recharge in 75-minutes when connected to a 250kW charging station. Incorporating a full recharge into a drivers' mandatory break will likely provide the CF Electric with full-day operational capability on urban distribution work.

The DAF CF Electric made its UK debut at the 2019 CV Show, where a 4x2 tractor unit was exhibited on loan from Dutch operator, Simon Loos. The BEV has gone on to deliver hugely successful trials with, among others, supermarket chains Albert Heijn and Jumbo. Trials of the CF Electric tractor unit elsewhere in the Netherlands, and in Germany, have now confirmed DAF's BEV credentials regarding safety, reliability and productivity. A number of CF Electric 6x2 rigids fitted with refuse collection bodies have also been operating in the Netherlands, and proving ideally suited to waste collection duties. The 6x2 rigid chasis is, of course, also aimed squarely at the urban distribution sector.

Fundamentally, the DAF CF Electric offers a compelling proposition for organisations committed to improving air quality and addressing climate change. With the introduction of its BEV technology to the UK market, DAF Trucks has demonstrated its willingness to partner operators with a tangible commitment to delivering using zero tailpipe emissions. The move is also part of a European roll-out of DAF BEVs with sales already underway in the Netherlands, Germany and Belgium and now the UK and France following suit.

The DAF CF Electric 6x2 rigid features DAF's 'FAN' axle configuration comprising a steer, drive and lifting rear-steer tag-axle, with DAF's latest Electro-Hydraulic Steering (EHS) system on the rearmost axle to assist manoeuvrability. The CF Electric 4x2 tractor unit at 37-tonnes GCW provides emissions-free solutions for a range of inter-urban truck-and-trailer applications, while the 6x2 rigid is expected to appeal primarily to waste collection and city distribution operations.

Aftersales

DAF Trucks is accompanying sales of the new CF Electric with a dedicated support programme to ensure operators maximise BEV efficiencies, including pre-sale advanced route simulation, and practical advice on 'smart' and efficient battery recharging.

"We're really excited at the prospect of bringing the CF Electric to UK operators," said David Price, DAF Trucks' Municipal Sales Manager with responsibility for sale of DAF electric vehicles in the UK, "Interest at the CV Show last year was extremely favourable, and feedback from a group of demanding customers on the Continent provides further encouragement that we have a very capable truck well suited to the UK. Safety, reliability and, of course, productivity, are critical in any new product development," he said, "and we're confident that the CF Electric ticks these boxes, alongside the BEV's very obvious environmental benefits."

DAF CF Electric | 'FT' tractor — Technical specifications

Chassis: 4x2

Wheelbase: 380cm

Weight tractor: 9,000 kg

Electric motor: 210 kW

Torque: 2000 Nm

Battery capacity: 350 kWh (315 effective capacity)
Range fully charged vehicle: up to 220 km
Quick charge batteries: 75 minutes (at 250 kW)

DAF CF Electric | 'FAN' rigid — Technical specifications

Chassis: 6x2, trailing axle

Wheelbase: 380/420/460/480cm

Weight rigid: 10,200 kg

Electric motor: 210 kW

Torque: 2,000 Nm

Battery capacity: 350 kWh (315 effective capacity)

Range fully charged vehicle: up to 220 km

Quick charge batteries: 75 minutes (at 250 kW)